Who are you? What is the purpose of this website?
Let me introduce myself properly: my name is Francesco, but people usually know me online as Taliesin. Born and raised in Italy, I recently moved to Germany together with my girlfriend to start a new life abroad. In my free time I enjoy drawing, specially digitally on my PC using a graphic tablet, and I originally made this website to collect my artworks online.
Taliesin studio actually is at its second life cycle: before getting a well deserved upgrade onto a WordPress platform, this used to be a VERY old, hand-made html compilation of pages that carried not only the pics I drew, but also gifts I received from other artists, my own webcomic, poetry and other stuff. I actually decided to keep a copy of the whole old thing on my hard drive… rest in peace, sweet prince.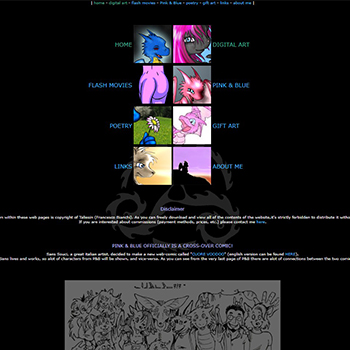 My old website. It didn't age well, but I still sentimentally am attached to it.
The main purpose of this website was that to be a repository of information – some sort of time capsule showing off my artistic evolution from its dawn until now, ever evolving. Now, thanks to the current situation (COVID-19 and quarantine are still happening), I am sitting at home, together with my girlfriend, mostly doing nothing. Using all the extra free time, we ended up working on a couple projects of our own: these made me realize how actually easy making a website from scratch can be nowadays, so I finally decided to rework and update my own personal digital space.
What's up with all these cute animal people? Why can't you draw humans?
I find anthropomorphic characters way more interesting that plain boring old humans. They can have more shapes and colors, and also proportions are different. I prefer focusing on fantasy creatures over "realistic" ones. I first found interest in anthro characters when I was a kid, around 5 years old, watching old Disney movies (like Robin Hood) and playing videogames like Sonic the Hedgehog. From there, I noticed that all the animal characters in videogames and cartoons were more interesting to me than their "boring" counterparts, until I decided to also start drawing my own humanoid animals.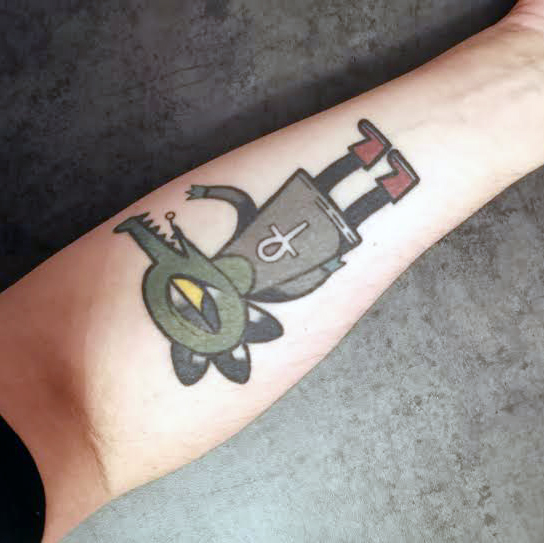 I even have them tattooed on my arms.
What do you like to do? How do your spend your free time?
First of all, I consider myself quite the nerd person. I spend alot of my free time in front of my computer, which primarily allows me to talk and hang out with my friends from all over the world.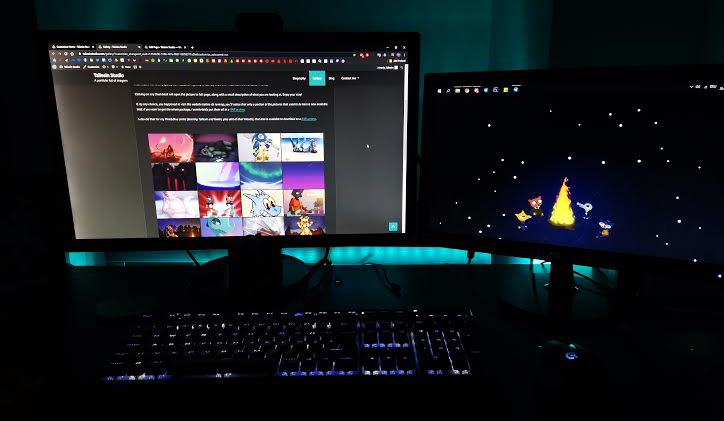 These are my windows on the world.
My PC also allows me to do the things I like to do the most: drawing, play videogames, and listen to music. I am a huge music addict, and I don't mind trying different genres and styles. One of my favorite bands is Pearl Jam (I am positive Black is my #1 song), followed by Bastille, Foo Fighters, Daft Punk and Low Roar. I really enjoy emotional stuff, both in lyrics and tunes. Also I always sleep listening to Lo-Fi tunes… so relaxing.
I am not a big reader, as I tend to find reading more informative than entertaining. Having a bit of ADD makes me need for multimedial interaction to keep myself entertained… so I prefer videogames with a good story and charming characters over a good book. My favorite games are Night in the Woods, Final Fantasy VII, IX and XIV, Bloodborne and Undertale. I spend alot of time on Minecraft too, and I firmly believe that Yume Nikki is one of the most interesting games ever conceived.
Concerning movies and TV shows… I tend to like horror/scary/psychological stuff the most, but I can't say I have a favorite movie or series: among the latest additions to Netflix, though, I feel the urge to really suggest you all to check The Midnight Gospel. TMG is an animated series based on a podcast, where characters discuss about various topics while going through the weirdest stuff. It's gorgeous and moving, specially the last episode. Oh, and speaking of podcasts… check Welcome to Night Vale. If you want to hear the radio bulletin of a small desert city in the middle of nowhere where weird stuff happens on a daily basis, you will love it.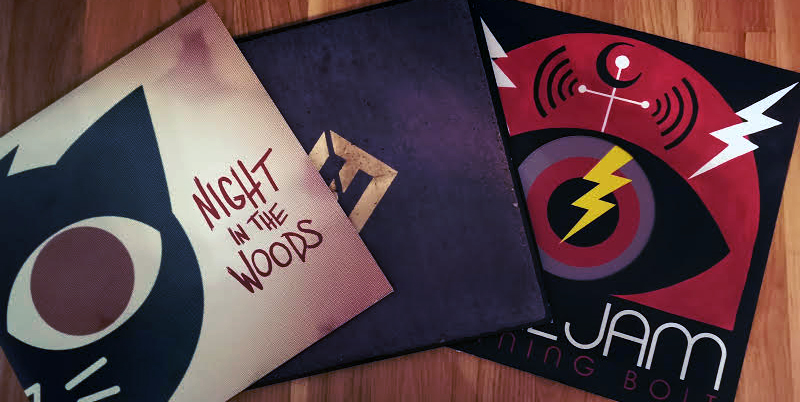 Vinyls are so cool.
Among other things, I love travelling (I mean, who doesn't?). The best part of it, though, is actually doing it with my girlfriend: we got to visit many different places, and we plan to keep on moving while we can. Oh, and we also have a cat, named Mango. He is adorable.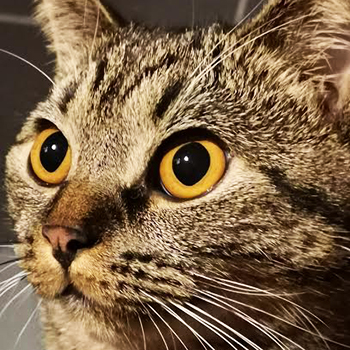 I told you he is adorable. Look at those eyes!
What else to say… oh yes, I also enjoy spirits. I am not a big drinker, I don't get wasted and I don't drink to get shitfaced… I just really like to learn how different kind of alcoholic beverages are produced, what are the differences among them, and how to taste and savor them. My drink of choice? Depends on the mood. My spirits of choice usually are Gin and Whisky, depending on mood. Favorite cocktail? Island spice – it mixes Captain Morgan spiced rum, ginger beer and lime juice in equal parts with half a part of vanilla syrup and 4 dashes of angustura. I love that drink, so spicy!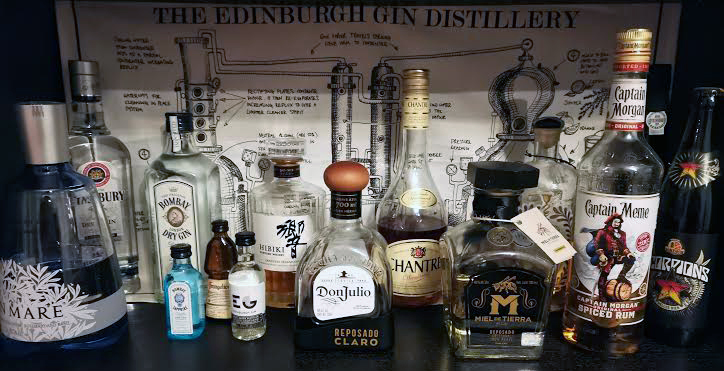 A small collection, ever growing.
So yeah, this sums me up pretty well. There is so much more I would like to say, but I am pretty sure I can expand any of the aforementioned topics way better in my blog. Keep an eye on it, I will try and post new things now and then. Stay tuned, and thanks for stopping by!